Santhigiri Ayurvedamana
Santhigiri Ayurvedamana, is an authentic Ayurveda hospital and a Yoga Retreat in Aluva, Eranakulam District, Kerala, India. Located 8 kms away from Aluva, at Kunjattukara in Edathala, one kilometer from Aluva – Pookattupady – Tripunithura Road on a beautiful hill terrain in Santhigiri Ashram, is an ideal place for Quality and authentic Ayurveda cure, unique moments of relaxation and mediation through Yoga, Residential Training courses for Yoga, Ayurveda Therapy and Ayurveda Diet .

This venture is a joint initiative of Santhigiri Trust and Paithrukam Hospitality Group (Ayurvedamana Hospitals)

The Santhigiri Ashram is established in the year 1992 in 11 acres of lush green land by the visionary bishop of the Mar Thoma Church Rt. Rev. Dr Zacharias Mar TheophilusSuffragan Metropolitan, the Santhigiri Ashram is a mix of traditional and modern design. The buildings and surroundings of the centre are those of a traditional Kerala village: a big pond with walkway, garden of prayer for meditation and solitary relaxation, organic farm, birds and animals and huge areas of gardens with local flowers and trees.Santhigiri Ashram has been very active in supporting various programmes like Palliative care, Educational support, and various other community programmes.

Paithrukam Hospitality Group of Ayurvedamana Hospitals are the pioneers in the felid of quality Ayurveda service which has attained the trust of thousands of patients around the world. "Ayurvedamana Way " of treatments, a unique combination of Ayurveda, Marma ( pressure point), and Kalari( Martial art of Kerala) styles is its USP. Paithrukam Hospitality Group is led by Mr. Sajeev Kurup and his wife Geetha Sajeev.

Santhigiri Ayurvedamana, actualizing its name, is a secure oasis of peace and tranquillity, a relaxing and exciting place to stay. This charming and scenic residential Ayurveda Hospital and Yoga Retreat with its lush green and picturesque environment tucked away from the hustle and bustle of the city will be the right choice for authentic Ayurveda Cure in a budgeted way.
Facilities

LUSH GREEN LANDSCAPE
Lush green landscape with walk way and cycle tracks.

ARCHANA MUSEUM
A museum with rare collections from around the world.

ARCHANA ANIMATION CENTRE
A well thought animation centre is ideal for group studies and presentations

ARCHANA ECUMENICAL RESEARCH CENTRE
Large collections of books and magazines from around the world is an ideal place for ecumenical research.

RESTURANT
A Kerala style restaurantserved with healthy Kerala food menu. Food from the same kitchen is also served to Ayurveda patients for healthy diets...

GARDEN OF PRAYER
Garden of Prayer is ideal for solitary or group meditation and relaxation.

main block

room-villa

meditation hall
Yoga Training Program
We offer short – term Yoga training that benefits the beginners and those who had already undergone the basic training as well. The Yoga component is authentic and the teachers representing the link of an ancient tradition. The course enables an adept to practice oneself and introduce to others the different aspects of health through Yoga. The course mainly focuses on the practical aspects along with proper explanations about the significance of each and every practice
Duration
Duration of the Course is 2 weeks
Schedule
The Training will be conducted on request with a group of at least 10-15 students each
General Information
Usage of Alcohol and other intoxicants, smoking is strictly prohibited. Indian vegetarian food is served at the canteen in the campus
Syllabus -
The course covers
Mentor & Advisor
Dr. K Sasidharan MD (Ayur)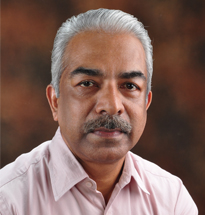 Born at Kanjoor near Kaladi in a family of illustrious tradition of Ayurveda in Kerala, reputed for about 5 ancestral generations of practicing Ayurveda physicians , graduated in 1976 and secured PG in 1988 from Govt.Ayurveda College, Trivandrum. A well known personality as a reputed teacher and clinician in Ayurveda and strictly follows the path of classical Ayurveda in clinical practice . Starting his career as Tutor in Govt Ayurveda college Trivandrum in 1977 later he continued as teacher in the posts of lecturer, Reader ,Professor , hospital medical superintendent and vice principal in The Ayurveda college Coimbatore for about 11 years and later joined as Reader in Ayurveda in the prestigious SreeSankaracharya University of Sanskrit Kaladi in Kerala .

After relieving the academic posts , he served as the Medical superintendent of the renowned Keraleeya Ayurveda Samajam hospital and research institute in Shoranur Kerala and.later joined as Medical superintendent Cum Chief advisor of Ayurveda Academy in the Kerala Ayurveda Hospital, Aluva, a concern of the Public limited company Kerala Ayurveda Ltd, Aluva, Kerala. Got the prestigious BhishakRetna award in 2009 and also became the health panel member of CII (Confederation of Indian Industry) South Indian chapter for 3 years.

He got retired while serving as the Pricipal and Professor at Nangelil Ayurveda Medical college Kothamangalam He also was the visiting faculty at the SreeSankaracharya University ,Kaladi.

He has presented number of scientific papers in regional ,national and international seminars and also published invaluable papers in approved journals. He has visited South Korea, US and few other Asian countries for conducting series of lectures on Ayurveda under the invitation of various foreign organizations./Universities.